The Japanese cartoon style known as anime has exploded in popularity throughout the world in recent years, permeating not just the entertainment industry but also the fashion industry. Anime clothing trends are constantly evolving, but there are a few key trends that are expected to be popular in 2024.
In 2024, huge silhouettes will be a major trend in anime fashion. Sweaters, hoodies, tees, and skirts with generous proportions are predicted to be widespread this season. Vivid hues and patterned fabrics are also popular now. In 2024, we may expect to see more clothing inspired by anime, which is renowned for its bright colours and attention-grabbing patterns.
There are a few things to remember if you want to experiment with anime fashion. In the first place, try new things. Anime style is all about having fun and being yourself, so let loose and express yourself. Second, you needn't be a total anime nerd to rock some anime-inspired threads. Do not be hesitant to experiment with anime-inspired clothes.
How to dress like an anime character:
Throw on an oversized sweater over some skinny jeans or leggings for a laid-back but put-together outfit.
Put on a t-shirt or dress with vivid colours and anime-inspired designs to make a statement.
Wear some earrings or a necklace that are reminiscent of your favourite anime characters.
An anime-inspired sweatshirt with some sweatpants or joggers make for a comfortable and casual outfit.
No matter how you choose to style it, anime clothing is a great way to express your individuality and add a touch of fun and excitement to your wardrobe.
Here are the top 10 fashion ideas for anime fans:
1. Oversized Ultra Ego Vegeta T-Shirt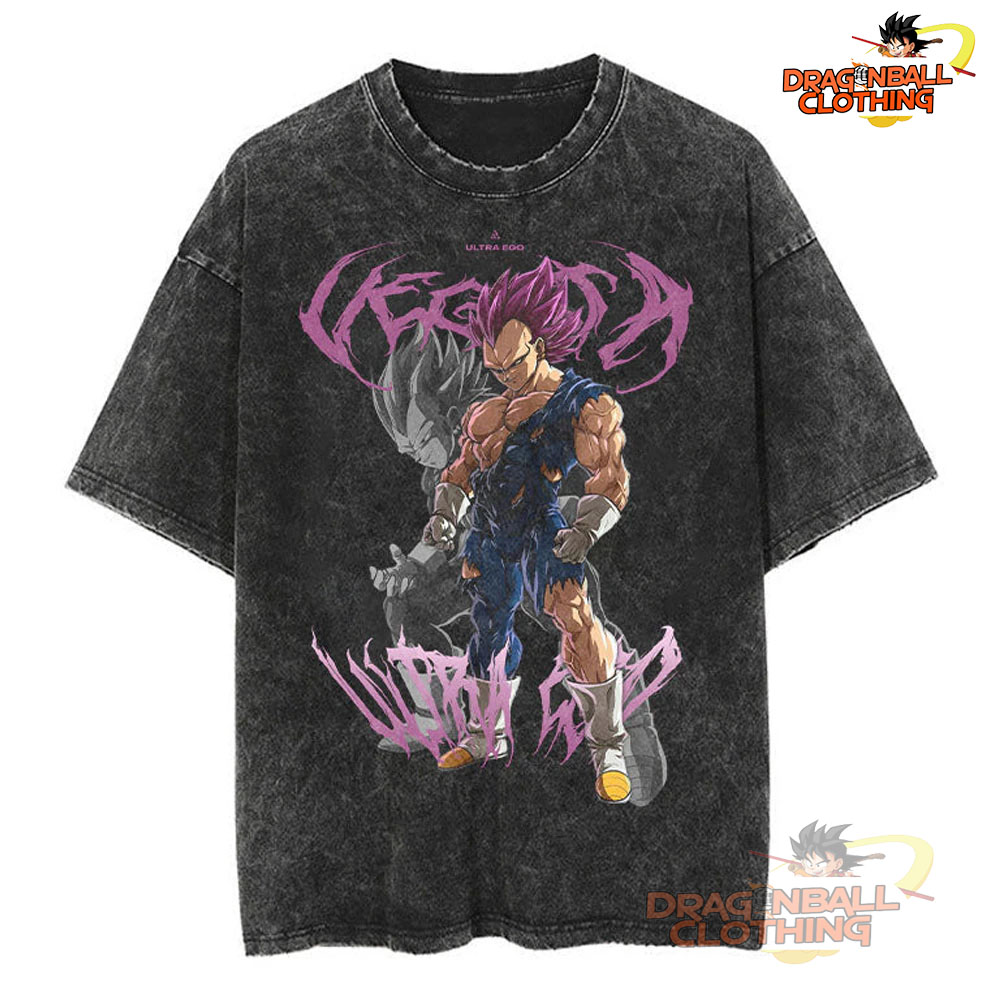 Introducing the ultimate mix of urban cool and anime awe: the Dragon Ball Z Hip Hop Oversized Ultra Ego Vegeta Shirt. With this epic outfit that honors the renowned Dragon Ball Z anime, you can embrace your inner Saiyan.
The powerful Ultra Ego Vegeta is shown in this vegeta t shirt in a larger-than-life manner that perfectly embodies the spirit of his strength. It is both stylish and comfortable. It is made of high-quality fabric that guarantees a velvety sensation against your skin, making it perfect for prolonged usage.
Whether you're a die-hard Vegeta fan or you're just fascinated by the Dragon Ball Z world, this vegeta shirt is a must-have for your wardrobe. The colorful artwork vividly brings the character to life, and the larger fit gives it a modern hip-hop edge. It's more than simply a shirt; it expresses your love of urban and anime culture.
2. Gogeta T-Shirt 2024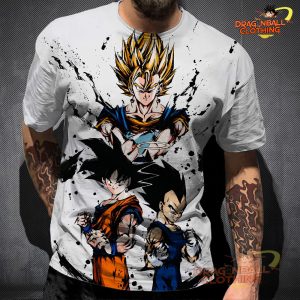 With the Dragon Ball Z Amazing Gogeta T-Shirt 2024, up your style ante. With the help of our Dragon Ball Shirt 2024, unleash the power of fusion and fashion! This magnificent t-shirt honors Gogeta, one of the most recognizable and formidable figures in the Dragon Ball world, and is an essential addition to your wardrobe of anime-inspired clothing.
Our Dragon Ball Z Amazing Gogeta T-Shirt uses a high-end printing method that vividly renders every detail. Every anime fan will be drawn in by Gogeta's ferocious look and the design's brilliant colors.
Whether you're out and about or binge-watching your favorite Dragon Ball Z episodes, this t-shirt's smooth, breathable cotton guarantees all-day comfort.
This t-shirt is designed to endure and is a practical addition to your wardrobe in addition to making a stylish statement.
3. Dragon Ball Tank Tops Muscle Men's Fitness Clothing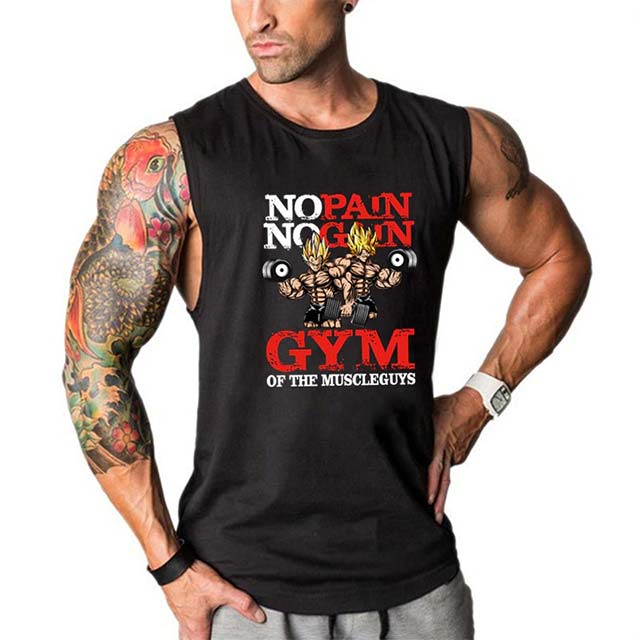 These high-quality cotton tank tops feature a simple loose fit and sport a DBZ print on the front,  You can personalize your Animated apparel by selecting various colors for both the tank top. These shirts are versatile, suitable for Gym. Made from comfortable and breathable polyester and cotton, the DBZ Gym Tank Tops from anime are a favorite among sports enthusiasts and Dragon Ball Z fans alike.
4. Bulma Cosplay Costume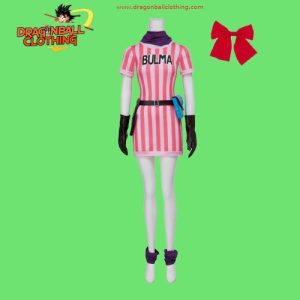 Introducing the DBZ Bulma Cosplay Costume, a captivating homage to the beloved anime character. This costume, meticulously crafted with top-notch materials, faithfully replicates Bulma's distinctive style.
The ensemble features a striking turquoise jacket, intricately patterned and stitched for an authentic portrayal of Bulma's iconic attire. Additionally, the Dragon Ball Z Bulma Costume comes complete with a chic belt, perfectly mirroring the character's accessory, adding both authenticity and a secure fit to your cosplay.
5. Anime Hoodie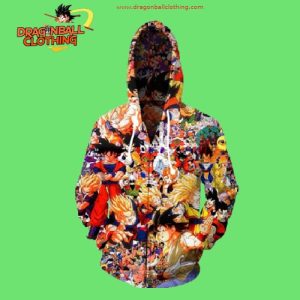 This high-quality Anime hoodie, crafted from a blend of soft and durable materials, guarantees comfort and longevity. The vibrant and detailed 3D printing, showcasing all the characters from Dragon Ball Z, sets it apart from other DBZ merchandise.
For added functionality, the hoodie includes a front pouch pocket to keep your hands warm and your belongings secure. Its ribbed cuffs and waistband ensure a snug fit, maintaining its shape through repeated wear. Plus, the attached hood boasts a soft lining, offering extra warmth and protection from the elements.
6. VEGETA CAP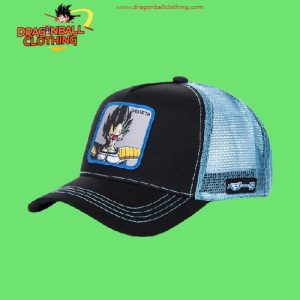 Introducing our newest addition: the DBZ Cap VEGETA BLUE 3D Animation! This Dragon Ball cap is a must-have for die-hard fans, showcasing a striking 3D animation of Vegeta in his iconic blue form.
Made from top-notch materials, this Dragon Ball Z hat is built to endure, allowing you to flaunt your Saiyan style for years. Its adjustable strap guarantees a comfortable fit for all head sizes, and the breathable fabric keeps you cool during intense training sessions.
7. Son Goku Anime Socks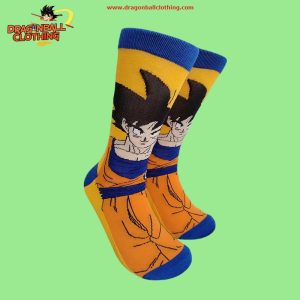 Enhance Your Style with Dragon Ball Son Goku Anime Socks. Step into the Dragon Ball world with our Son Goku Anime Socks! These socks combine comfort and style for a wardrobe essential. Whether you're a dedicated Dragon Ball fan or appreciate quality accessories, these socks will impress.
Featuring a vibrant, detailed Son Goku design, these socks showcase the iconic Saiyan warrior in action, ensuring your love for Dragon Ball shines through.
Crafted from soft, breathable materials, these socks offer all-day comfort with a snug fit that doesn't compromise breathability.
With reinforced toes and heels, these socks are built to last, allowing you to wear them day in and day out without worry about wear and tear.
8. Goku Shoes Anime Cosplay
Here we have the DBZ Son Goku Shoes, the pinnacle of footwear for any fan of the legendary show. These sneakers are a creative take on the classic attire worn by the renowned Goku, and feature an eye-catching combination of orange and blue.
These shoes, made with care from premium materials, are a cut above the rest when it comes to striking the perfect balance between fashion and function. Thanks to the cushioned footbed and the robust outer sole that provides exceptional grip traction. You will experience supreme comfort with every stride. A breathable mesh material constructs the top, ensuring that even the most strenuous activities won't make your feet feel warm.
9. Goku T-shirt + Shorts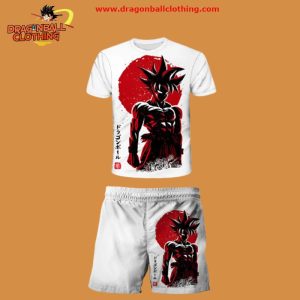 Check out our 100% cotton Dragon Ball Goku summer tee and shorts set! This is the ideal summertime accessory for any Dragon Ball fan who is looking to keep cool.
Both the T-shirt and the Anime shorts in this fashionable pair prominently feature Goku, the popular protagonist of the Dragon Ball series.The design is likely to attract attention everywhere you go because to the combination of its exquisite details and bright colors.
10. Goku Jacket Coat Fashion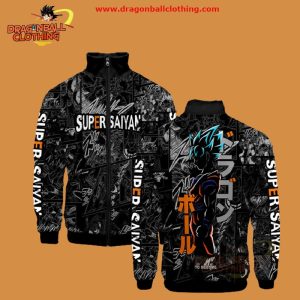 The Goku Jacket Coat Fashion has a sleek and adaptable look that fuses elements of anime streetwear and anime style. Embroider the Dragon Ball Z emblem on the back to show your dedication and appreciation for the anime.
This jacket is ideal whether you're going to a cosplay convention, just hanging out with friends, or want to add some anime flare to your regular wardrobe. You can wear it to both informal and semiformal events because of its fashionable and evergreen charm.