Anime has taken the world by storm, with its wide range of styles, interesting stories, and well-known characters. Toys and souvenirs from anime have a cult-like following when it comes to anime figures. Fans all over the world love these carefully made and incredibly detailed Anime Statue that bring their favorite characters to life. This article will dive into the magical world of dragon ball figures and look at the most sought-after and famous ones of all time. It will also honor the skill and artistry that continues to enchant anime fans all over the world.
Here are the most popular anime figures:
Bulma Action Figure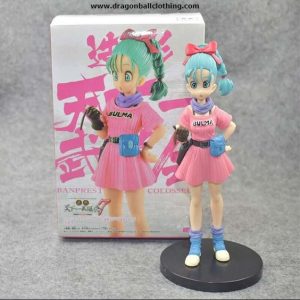 The Dragon Ball Z Bulma Action Figure from the legendary Dragon Ball Z anime series is now available! This high-quality figure is a must-have for every fan's collection.
Bulma's adventurous attitude and dynamic personality are captured in the rich design and brilliant colors, making her the ideal companion for any series fan.
This db action figure is made of strong materials and is designed to resist the demands of play and exhibition. Fans may place Bulma in a number of action-packed poses, recreating their favorite scenes from the anime, thanks to many points of articulation.
The Bulma Figure is a must-have for every Dragon Ball Z fan, whether you're a seasoned collector or a casual fan. So don't put it off any longer – add this fantastic figure to your collection now and join Bulma on her adventurous travels!
Vegetto PVC Figure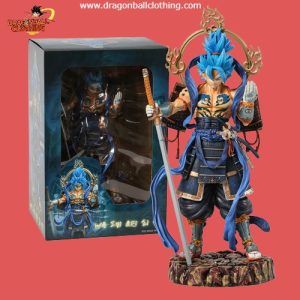 If you're a fan of the classic Dragon Ball Z series, you'll want to add the Vegetto PVC Figure to your collection. This figure, made with painstaking care, is a must-have for collectors and avid fans.
These dbz figures are of the highest quality, thanks to their sturdy PVC construction that will keep them looking great for years to come. Every detail of Vegetto's appearance is accurate, from his flowing hair and intense expression to his iconic Saiyan armor.
The dynamism of Vegetto's stance conveys the full measure of his superhuman strength and fighting prowess. His body tensed, and his spirit surged. As a legendary warrior, he gives off an air of indestructibility.
Stuffed Toys Majin Buu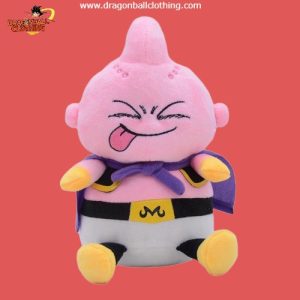 The Dragon Ball Z Majin Buu stuffed toy is great for people who like the popular anime show. This soft toy is 20 cm long, which makes it the perfect size for cuddling and showing off on your shelves.
This MajinBuu Plush is made from high-quality materials and is soft and pleasant to touch. It's great for cuddling up with while watching your favorite Dragon Ball Z shows.
Majin Buu is one of the series' most famous bad guys, and this legally approved item shows him in his cute and playful pink form. Majin Buu's unique look, including his round shape and signature antenna, is captured in great detail in the toy's design.
Super Saiyan Goku Funko Pop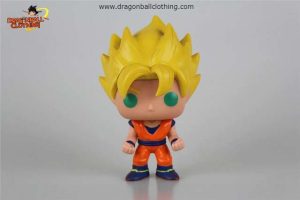 Fans will definitely enjoy how beautiful this Super Saiyan Goku Funko Pop! Let out your love for the well-known anime lead character and bring the grandeur of Dragon Ball into your world. To honor Goku's amazing transformations and unbreakable spirit, this beautiful figurine was made.
The Funko Pop figure of Goku in his Super Saiyan form is just the right size for your display shelf. It is a real work of art, with a kaleidoscope of beautiful colors and a complicated design that makes the senses dance.
This figurine stands out because it was carefully made from high-quality, long-lasting materials. Super Saiyan Goku Funko Pops are the perfect gift for anime fans and people who love carefully made items with lots of tiny details.
Take advantage of the fact that this one-of-a-kind masterpiece is hard to find. You should get a Super Saiyan Goku Funko Pop right now to add to your collection. Bring color into your space and remember how brave Goku was in the past with this real-life symbol of his bravery. Spend some time with the Dragon Ball tradition! Look it over and quickly add it to your cart.
DragonBall Z Figure Fukkatsu (Piccolo)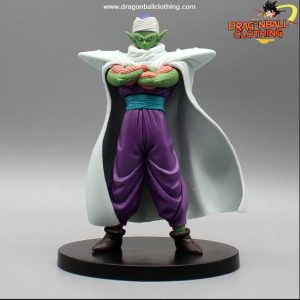 Our meticulously crafted Piccolo figurine will take your affection for Dragon Ball Z to new heights. This  masterpiece stands 17cm tall and captures the essence of the adored character, making it a formidable addition to your collection.
Unleash the power of nostalgia as you bring Piccolo to life in astonishing detail and vivid color. Every contour, facial expression, and hue of green has been meticulously documented to ensure a genuine and captivating experience.
But there's more! Our statue is more than just an ornament. It is evidence of quality. Durable, high-quality materials crafted it, and it will endure the test of time, remaining as beautiful as the day you first set eyes on it.
Do not pass up the chance to acquire a piece of Dragon Ball Z history. Join the innumerable admirers who have already encountered Piccolo's enchantment through this incredible figure. Place your order and add this exceptional collectible to your shopping cart immediately.
Dragon Ball Super Hit Keychain
Mr. Satan Action Figure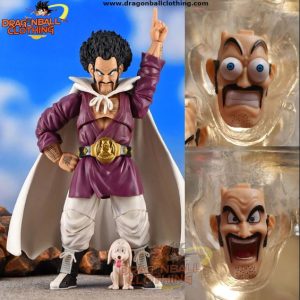 The Dragon Ball Mr. Satan action figure is a thrilling collectable that brings to life one of the Dragon Ball series' most renowned characters. This action figure, based on the famed martial artist and self-proclaimed "World's Strongest Man," Mr. Satan, captures the spirit of the character with extraordinary attention to detail.
Mr. Satan action figure is around 16CM tall and manufactured of high-quality PVC material, assuring longevity and perfection in its design. The highly articulated body of the figure allows for a broad variety of dynamic postures and recreations of Mr. Satan's characteristic motions and stances.
This action figure's attention to detail is simply astounding. They have accurately replicated Mr. Satan's signature pink gi with the "Hercule" insignia in brilliant colors and complex embroidery patterns. They have well molded his strong figure, displaying his amazing strength and agility.
Dragon Ball Z Goku 3D Sweatshirts
Dragon Ball Z Figure Beerus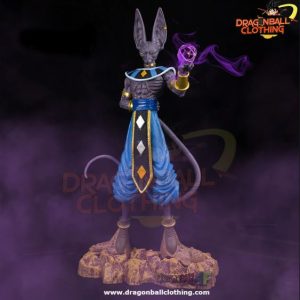 No Dragon Ball Z fan should be without the Beerus figurine. This expertly detailed action figure depicts Beerus, the God of Destruction. Excellent paint application brings the character to life with bright hues. Whether you're wanting to showcase this figurine on your shelf or use it as a centerpiece for your collection. The DBZ Figure Beerus is guaranteed to wow.
This Anime action figure comes with a range of attachments, including interchangeable hands and faces, enabling you to personalize your display and recreate some of Beerus' most memorable scenes from the anime. Manufacturers use high-quality materials to manufacture the figurine, assuring durability and endurance. Whether you're a long-time fan of the series or a novice seeking to start your collection. The Dragon Ball Z Figure Beerus is a great addition that you won't regret. So don't hesitate to add this fantastic figurine to your collection now!
Son Goku Figure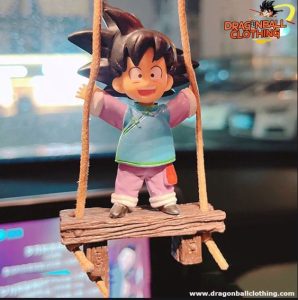 Any fan of the hit anime series Dragon Ball Z would be proud to own the Dragon Ball Z Swing Son Goku Figure. One of the most recognizable characters in the series, Son Goku, takes a lively action position on this figure. The incredible attention to detail in rendering facial features makes this DBZ toy seem as if it was taken directly from the anime.
Android 18 Figure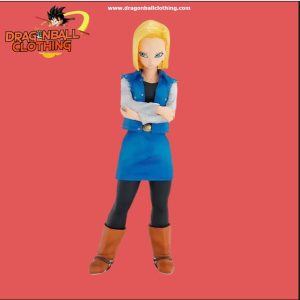 Our Android 18 action figure is proof of the skill and commitment of real Dragon Ball Z enthusiasts. We painstakingly reconstructed every feature, attitude, and accessory to provide a true portrayal of this fearsome persona.
Looking for the ideal present for another Dragon Ball Z fan? Look nowhere else. The Amazing Android 18 Action Figure will delight fans of all ages. Whether they are reliving the story or learning about it for the first time.
Add the Amazing Android 18 Action Figure to your Dragon Ball Z collection right away. Don't pass up the opportunity to possess this beautiful representation of the Dragon Ball world. Order right away to have the strength and beauty of Android 18 enhance your collection!
Moro Action Figure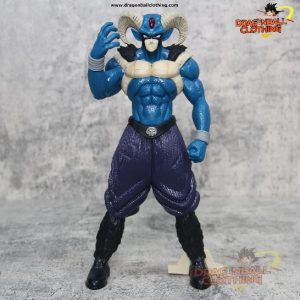 Our Dragon Ball Super Moro Action Figure accurately depicts the Galactic Menace. This figure is a great piece of art for collectors and fans alike, from his unusual outfit to his complex facial expressions.
Moro's potential is great, letting you to recreate your favorite action-packed anime moments. You may display him in various fighting stances, ready to unleash his lethal energy-absorbing powers. This high-quality PVC DBZ action figure is built to endure. Moro's durability assures that it will be a focal point in your collection for many years to come.